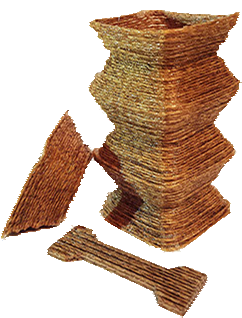 News
Learn more about the WouldWood project by visiting our News page.
Calendar
Take a look at our calendar to find out about our upcoming activities and events.  
About
Find out more about the concept of 3D-printing wood materials and why we are using it.
Sustainable
By using wood materials instead of steel etc. the construction process becomes more sustainable.
Creative
As wood is a very flexible material, one can easily be creative in regards to design and different usage areas.
Innovative
3D-Printing enables so many ideas to come to life, ideas which used to be considered impossible.
3D-PRINTED WOOD
SUSTAINABLE, CREATIVE & INNOVATIVE
The project aims to develop sustainable future materials and fabrication processes – an innovative wood-based material for 3D-printing.
About WouldWood
The project addresses the challenge to modernize wood-based manufacturing and adapt it for large scale additive manufacturing. Wouldwood is an integrated design, material and production platform for advanced additive production of biobased medium and large sizes components for construction and transportation. It includes digital design and production tools, communication systems, a biobased material system and a recycling strategy. 
Wouldwood II has a budget of 14,9 MSek and is financed through VINNOVAS UDI program (Challenge Driven Innovation, stage 2) together with the partners.
Step by step…
Follow the process of 3D-printing wood, click on the images below illustrated by our project partner Phenotype Studio